This tile and stone Mortar series include materials from Economy to Premium class Mortar dry mix modified by high-quality polymers on a cement basis of Euronorm class EN 12004: from C1 to C2T/C2E. Available gray and white colors. For all types of ceramic plates, tiles and natural stones, inside-outside buildings and constructions.

---
Material system for facade insulation is universal factory prepared dry mix on cement basis modified by polymer additives of class С1 of Euronorm EN 12004.
It is used for close-grained (up to 9 mm) method of adhesion of thermal insulation elements: stone wool or foam polystyrene and of reinforcing net.

---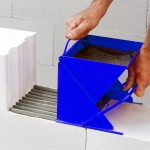 Block Mortar dry mix is a high-quality modified polymeric additive adhesive solution on cementsandy base for outer walls and internal partitions laying from large-format porous blocks (aircrete, haydite etc.). It can be used for ordinary bricks laying (silicate and ceramic).

---
SEBEK produces polymer-concrete waterproofing, including a penetrating and Crystalyser effect, to achieve really good results in waterproofing system building.
Materials in their properties even exceed the requirements of Euronorm EN 1015.

---
Selfleveling Mortar represents a mix on a cement basis which being made-up by water forms easily spreading and selfleveling solution for fast surfaces leveling for the subsequent laying of finishing materials. It provides fast achieving of smooth surface with excellent characteristics only in 4 hours and allows walking on it.

---
Bed Mortar is a factory prepared blend of carefully selected raw materials, portland cement and graded aggregates.
Was designed for use with other Latex Additives to produce a exceptional strength latex Portland cement mortar (lock and retain all organic components) for effectively repair concrete cracks and losses.

---